Orders for U.S. business equipment fell in September by the most in seven months, indicating corporate investment is having trouble gaining traction.
Bookings for non-military capital goods excluding aircraft dropped 1.2 percent, erasing a 1.2 percent August gain that was stronger than previously reported, Commerce Department data showed Thursday. The median forecast of economists surveyed by Bloomberg called for a 0.1 percent drop. Demand for all durable goods eased 0.1 percent.
Business investment remained slow in the third quarter as moderating demand and weakness overseas prompted companies to hold back. Even with stability in the oil sector, an inventory correction and growth in consumer spending, manufacturing will probably see little more than a gradual improvement.
"Business investment has been mired in a slump for more than a year and there's nothing in these numbers to suggest it's about to break out," said Omair Sharif, senior U.S. economist at Societe Generale in New York. "It'll still be a small drag on third-quarter growth."
Orders declined for fabricated and primary metals, computers and electronics, and communications equipment.
The drop in bookings for all durable goods last month followed a 0.3 percent August advance that was better than previously reported.
Orders for non-defense capital goods excluding aircraft are a proxy for future business investment in items like computers, engines and communications gear. Even with the decline, bookings over the three months ended in September rose at a 5.2 percent annualized pace, indicating the worst of the investment slump is over.
Nonetheless, shipments of those goods, which are used in calculating gross domestic product, fell an annualized 4.4 percent in the three months ended in September. They were up 0.3 percent from a month earlier after little change in August. Compared with a year earlier, sales of capital equipment were down 5.2 percent.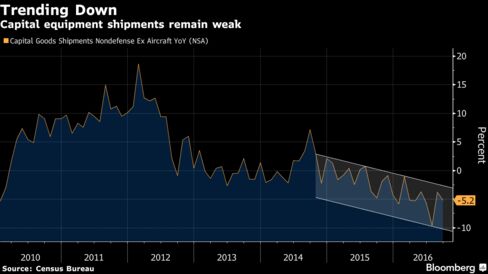 On Friday, the Commerce Department will issue its first estimate of third-quarter GDP.
The durables report also showed bookings for non-military aircraft rose 12.5 percent following a 24.2 percent decrease.
Boeing Co., the Chicago-based aerospace company, said it received 55 orders for aircraft in September, up from 22 in August. Deliveries for the month rose to 72 from 59.
Durable goods orders excluding transportation equipment, which are often volatile from month to month, climbed 0.2 percent after a 0.1 percent gain.
Bookings for military capital equipment decreased 7.7 percent, and demand for non-defense durable goods rose 0.7 percent.
Durable goods inventories crept up 0.1 percent for a second month, while unfilled orders for non-defense capital goods excluding aircraft rose 0.2 percent.
Orders for U.S. Capital Goods Decline by Most Since February – Bloomberg