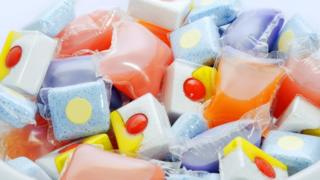 Parents are being urged to store liquid detergent tablets safely after US research found eye injuries in young children had gone up 30-fold in the past few years.
When the liquid squirts into children's eyes, or is rubbed in via their hands, it can cause chemical burns.
Doctors in the UK have previously warned of the dangers of the tablets, saying children often mistake them for brightly-coloured sweets.
Children under five are most at risk.
The tablets, which are used in washing machines and dishwashers, are often soft in texture, making them attractive to pre-school age children.
But they contain alkaline chemicals which can burn the eyes and lead to long-term eyesight problems.
If an accident occurs, parents are advised to rinse their child's eye in cool running water for 20 minutes and seek medical help.
If the chemicals are swallowed, children can choke and have serious breathing problems, in which case parents should call emergency services straight away.
In the US between 2010 and 2015, there were more than 1,200 eye burn injuries related to liquid tablets among three and four-year-old children, the study in JAMA Ophthalmology found.
In 2015, there were 480 incidents compared to only 12 in 2012.
Dr R. Sterling Haring, from John Hopkins University, collected the data and concluded that there was a growing risk to young children from liquid detergent tablets.
He said more could be done in the home to prevent injuries in the under-fives.
"In addition to proper storage and use of these devices, prevention strategies might include redesigning packaging to reduce the attractiveness of these products to young children and improving their strength and durability," he said.
Out of reach
In 2012, doctors in Glasgow issued a warning after treating some children for near fatal injuries after they suffered burns to their eyes or throats from detergent tablets.
The Royal Society for the Prevention of Accidents said tablets were responsible for more childhood injuries than any other household product in the UK.
Sheila Merrill, public health adviser at the Society, said: "Due to their inquisitive nature, children under the age of five are most at risk of accidentally swallowing or getting household cleaning products, like liquid laundry capsules, into their eyes.
"Even products with a child-resistant closure cannot guarantee safety – they only reduce the risk by delaying access to the product."
She said parents should store household cleaning products out of reach of children, preferably in a locked cupboard.
And she added: "In the event of an incident, follow advice on the product pack and seek medical attention."
Eye burn injuries risk to children from liquitabs 'on the rise'