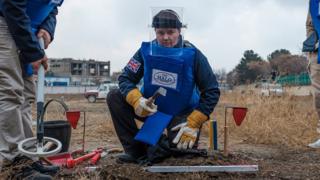 Defending the UK's foreign aid budget has been made harder by the Oxfam scandal, Scottish Conservative leader Ruth Davidson has said.
In an interview on Peston on Sunday, she condemned charity workers who exploited the vulnerable people they were supposed to be helping.
And she criticised the "arrogant" response of Oxfam's chief executive.
But she said it was important that people understood how UK foreign aid benefits people around the world.
The UK government is committed to spending 0.7% of its gross domestic product (GDP) on foreign aid.
That amounted to £13.3bn in 2016, according to the Department for International Development.
However, earlier this month a petition was delivered to Downing Street by Jacob Rees-Mogg calling for the foreign aid budget to be cut.
It coincided with revelations that some Oxfam aid workers in Haiti used prostitutes, following the huge earthquake which killed more than 200,000 people in 2010.
The charity has been accused of covering up the behaviour of their former employees by failing to reveal the full extent of the allegations at the time.
In an interview by Robert Peston, Ms Davidson said it was important that people did not ignore "all the good" done with the help of UK foreign aid.
She pointed to funding of child vaccination programmes, mine clearance operations and the education of women.
Protect reputation
She said: "We can't ignore all the good that aid does, and I know that the 0.7% debate is a big debate.
"I think (those who support UK aid) have all got a bigger job to do to explain what it actually is that British aid does around the world, and I think what Oxfam has done has just made that job 100% harder."
The MSP for Edinburgh Central added: "The idea that international helpers that go to a country that has had a terrible disaster like Haiti and use their position, which is to help the most vulnerable, to then exploit them is probably pretty much the lowest circle of hell that you can find.
"The idea that instead of addressing that behaviour, instead of reporting it, instead of allowing the authorities in the country to deal with it, instead of allowing victims of that behaviour to see justice being done, the idea is that we'll protect the reputation of what we've built up ourselves.
"I think that's what's really hurt people at the centre of this affair. "
She gave the interview after returning from a trip to Afghanistan with Scottish charity, The Halo Trust, which is running a mine clearance operation in the country.
The Halo Trust suspended a Burmese employee in January pending an investigation into an allegation of sexual assault.
Davidson defends UK government foreign aid commitment}